These date bars have a natural sweetness and decadence, but offer a far better nutritional profile than your typical store-bought candy. Full of fiber and healthy fats that can help minimize a blood sugar spike, these are a great post-dinner treat or afternoon snack every day of the week.
Ingredients
24-30 Medjool dates, depending on how big your prep sheet is (I bought pitted, but they are easy enough to pit on your own)
1 c chocolate chips
1 c nut butter of choice, such as almond butter (pictured here)
1 tbsp coconut oil (melted)
1/2 c chopped nuts of choice, such as cashews (pictured here)
1/2 tsp sea salt (optional)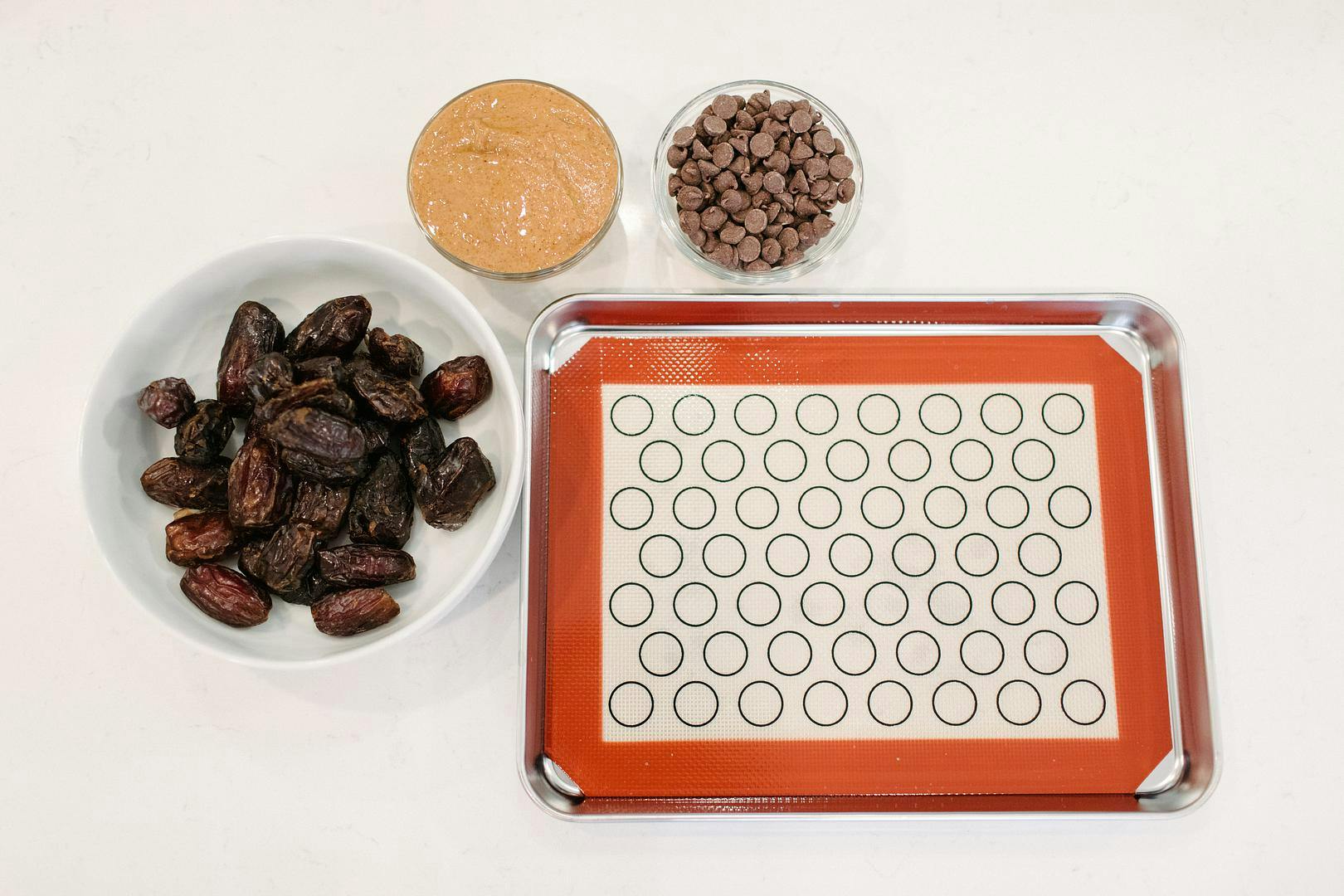 Not pictured are coconut oil and salt, which are both optional.
Steps
1. Flatten out your dates to the size of your baking sheet (I also used a silicon baking sheet underneath, but you could also use parchment paper as well). Roll them out with a glass cup to help them flatten even more.
2. Take your nut butter of choice and spread it evenly over the dates.
After this step, place the sheet in the freezer for about 10 minutes to let the almond butter firm up a bit.
3. While the sheet is in the freezer, add the chocolate chips and coconut oil together and heat the mixture just enough for the chocolate to be spreadable, but not super runny. Then pull the sheet out and spread the chocolate mixture over the almond butter.
4. Next, take your chopped cashews or nuts and sprinkle them over the top, along with a dash of sea salt (optional).
5. Place your tray back in the freezer for 30 minutes. Then pull the sheet out, let it sit for 5-10 minutes, and cut it into bars. You can store these in the freezer for several months (but they probably won't last that long!). Enjoy!
Kacie Q is part of the Customer Support Team at Veri. She grew up in Montana, where she graduated with a B.S. in Nutrition from Montana State University. She also has an M.S. in Sport and Performance Psychology from the University of Tennessee. Kacie spent the last 12 years as a professional photographer and is combining all her passions at Veri and helping create content for glucose-friendly meals. Kacie resides in Tennessee with her fiance and her dog, Nash.