This pumpkin vanilla chia pudding recipe is the perfect metabolically friendly breakfast, snack, or even dessert. It's rich in fiber, which can help you steer clear of a glucose spike, and the protein powder will keep you sated until your next meal. Best of all, it's easy to prepare in batches to enjoy throughout the week. The recipe below makes two servings.
Ingredients
½ c canned pumpkin puree
1-2 scoops of your favorite protein powder (I used the vanilla flavor from Truvani)
1-2 tbsp maple syrup (optional, can be adjusted to your liking)
½ tsp vanilla extract
1 tsp pumpkin pie spice (or a mix of cinnamon/nutmeg/clove)
1 ½ c unsweetened almond milk (or any milk of your choosing)
¼ c chia seeds
Steps
1. Start by whisking pumpkin puree, maple syrup (if using), vanilla extract, and pumpkin spice together.
2. Next, mix the almond milk (or milk of choice), chia seeds, and protein powder. Then combine with the pumpkin mixture. Cover in a bowl, cover, and refrigerate for at least 3 hours. (I have found that my chia seed pudding turns out best when I let it sit covered overnight in the refrigerator.)
3. Dish out into a bowl or cup. I topped mine with a bit of a cinnamon/nutmeg and mixed together. Enjoy!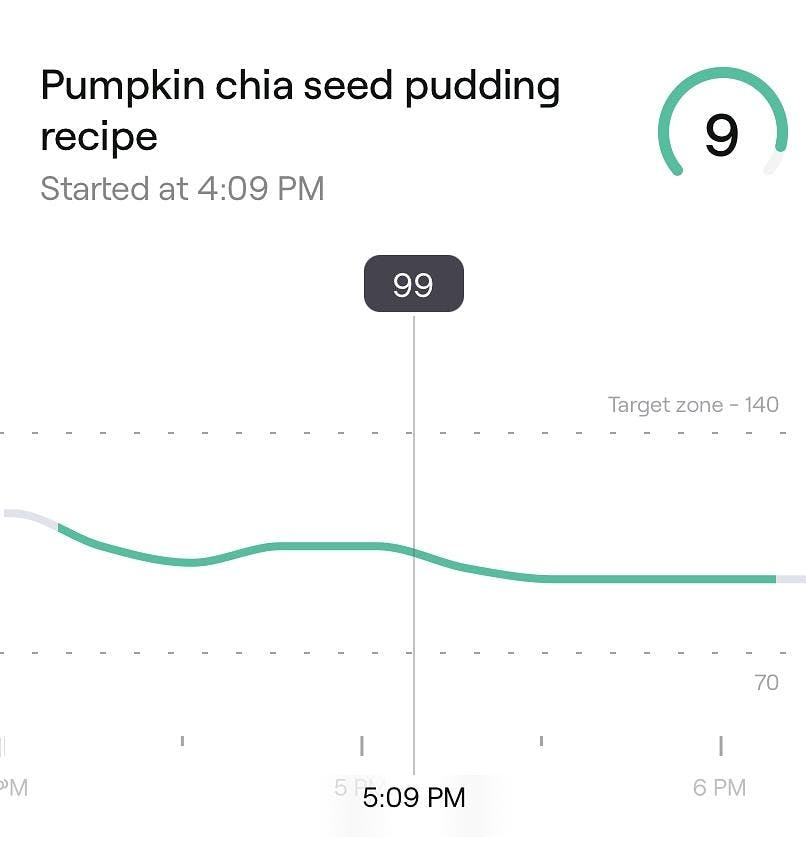 This pumpkin chia seed pudding recipe keeps you full without spiking your glucose levels.
Kacie Q is part of the Customer Support Team at Veri. She grew up in Montana, where she graduated with a B.S. in Nutrition from Montana State University. She also has an M.S. in Sport and Performance Psychology from the University of Tennessee. Kacie spent the last 12 years as a professional photographer and is combining all her passions at Veri and helping create content for glucose-friendly meals. Kacie resides in Tennessee with her fiance and her dog, Nash.