This harvest casserole recipe is the perfect warm, savory dinner for the fall and winter months. It's an easy way to use up whatever vegetables you have in your fridge — and a nourishing, metabolically friendly meal that you can easily whip up on a weeknight with minimal prep or clean-up. You can substitute different vegetables, omit the ground meat and just use the chicken sausage, or play with different herbs/spices to make this your own.
Ingredients
2 c butternut squash (could also substitute sweet potatoes here)
Several handfuls of Brussels sprouts halved
2 tbsp olive oil
1/2 onion of choice
4-6 garlic cloves (optional)
6 chicken sausage links, cut up
1 lb pork sausage (could also substitute ground turkey, chicken, grass-fed beef, etc).
2 tsp rosemary
2 tsp sage
2 tsp thyme
2 c riced cauliflower (I bought mine frozen)
1 small honeycrisp apple (diced into small pieces)
1/2 c bone broth (of choice — I used chicken for this)
1/2 tsp cinnamon
½ c chopped pecans
Sea salt and black pepper
Steps
Preheat oven to 425 F. Cut the Brussels sprouts in half, and if you need to cut up the butternut squash or sweet potatoes, please do so at this time. Then on a baking sheet spread out both the sprouts and squash. Drizzle olive oil over and coat both vegetables well. Sprinkle with salt and pepper to your liking.
Place vegetables the oven for 20-25 minutes. After these are done cooking, pull out the sheet pan of sprouts and squash, and set aside. Reduce oven heat to 400 F.
While the Brussels sprouts and butternut squash are baking, grab a large skillet, toss in ½ onion (chopped up) and garlic (diced), and cook with a little olive oil over medium heat. After a few minutes or until browned/softened, then add the ground meat of your choice and continue cooking over medium heat. While this was going, dice up the chicken sausage links and add them to cook halfway through. Cook until the ground meat and chicken sausage are both browned.
While the meat is still cooking, chop up the apple into fine pieces. Next, in a separate skillet, add the 2 c of riced cauliflower, the diced apple, and finely chopped pecans. After all is mixed well, add ½ tsp cinnamon. You can season with salt and pepper to your preference at this time. I cooked this long enough to ensure the apples and riced cauliflower were softened. 10 minutes or so over medium heat.
Use a casserole dish or dutch oven and combine everything — the ground pork + chicken sausage skillet, the riced cauliflower + apples + pecans skillet, the sprouts + squash. At this time I added ½ c bone broth (of choice) here and I mixed it all together and put it back in the oven at 400 degrees for 15 minutes.
Take it out of the oven and enjoy!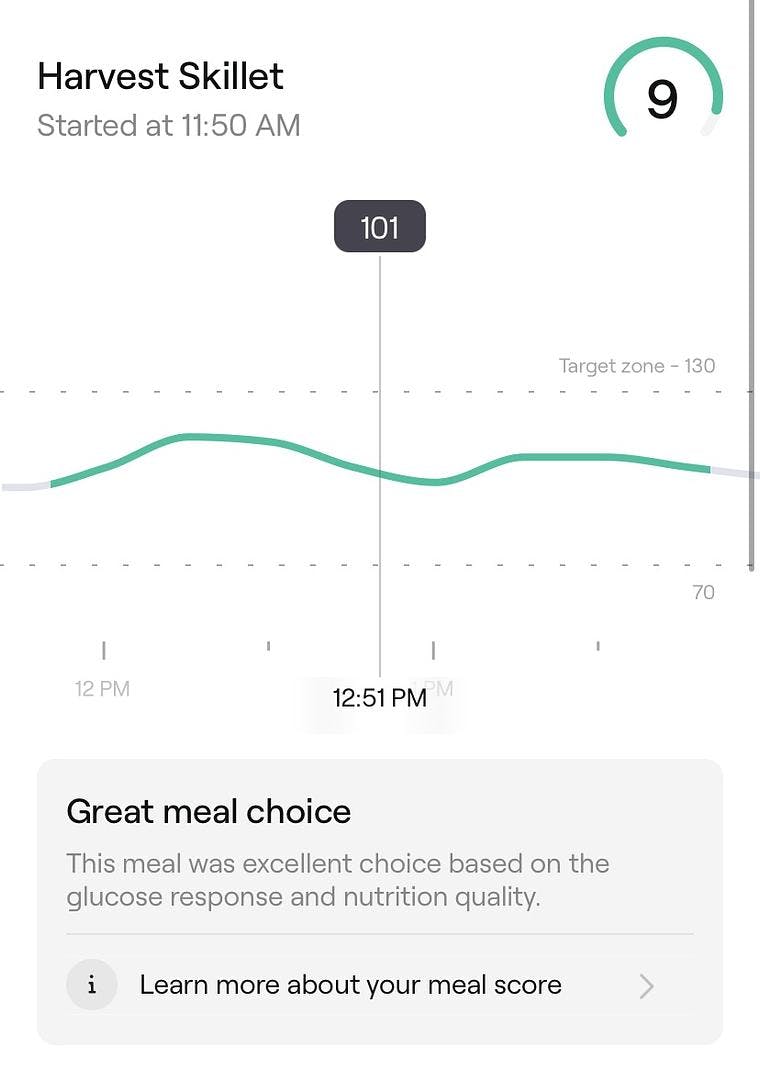 The harvest casserole fills you up but doesn't spike your glucose levels, minimizing the familiar "post-meal crash" that often happens after savory dinners.
Kacie Q is part of the Customer Support Team at Veri. She grew up in Montana, where she graduated with a B.S. in Nutrition from Montana State University. She also has an M.S. in Sport and Performance Psychology from the University of Tennessee. Kacie spent the last 12 years as a professional photographer and is combining all her passions at Veri and helping create content for glucose-friendly meals. Kacie resides in Tennessee with her fiance and her dog, Nash.